I have seen this picture of the emotional scale quite a bit here on InwardQuest...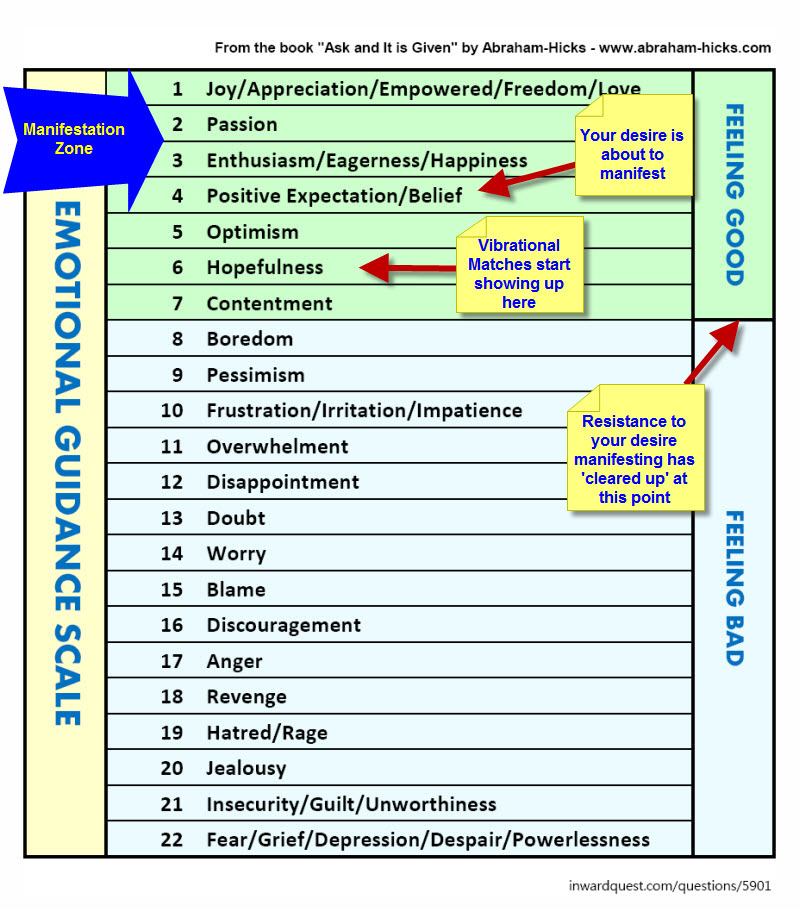 There are labels on the emotional scale such as "Your desire is about to manifest" for emotions higher up the scale.
But from what I understand, this "about to manifest" level can be achieved as long as you are happy and your point of attraction for a particular subject is neutral.
Why dooes having positive thoughts about the issue itself (as opposed to just neutral) have any effects on its manifestation (as implied by the image)?
This is important for me because FasteEFT has become my primary way of releasing resistance. I'm also figuring out how to implement the Abraham Grid... and I would definitely consider using it more often (based on the response I get to this question) since it leaves your vibration in a positive, rather than neutral, place.
If possible, I also want to tack on a related question (need a higher character count before I submit)...
If I have negative thoughts about an issue, and I leave those thoughts as is and stay predominantly happy (and NEVER remember/activate the thoughts pertaining to the issue), will it manifest?
asked 05 Jan '14, 17:37
WeRadiateBeauty
2.6k●3●18

---
Why dooes having positive thoughts about the issue itself (as opposed to just neutral) have any effects on its manifestation?

The pipe analogy is a great one to explain this idea.

Let's say you want to manifest something but you feel resistant about it. This feeling is like a blockage ("clog") in a pipe.

Once you unclog the pipe with this thing called "snake", water can flow through the pipe again. The "snake" is Faster EFT in your case. So you use Faster EFT to unblock your pipe so the manifestation can flow into physical reality.

However, why do positive thoughts have any effects on your manifestation?

It's because positive thoughts increase energy flow. To stick to the pipe analogy, thinking positive thoughts about the subject is like now opening the water tap (in the picture above).

So water builds up more pressure and if there is no blockade in the pipe, it can flow faster through it. And this means, you get what you want faster by thinking positive thoughts about the subject.

Sometimes when we wanted something for a long time, the physical manifestation can occur really fast when we unblock the pipe only. Because there is already a lot of pressure because of that constant wanting and not allowing, wanting and not allowing, wanting and... So the more we want something without allowing it, the more pressure it builds up in the pipe.

Once you allow the energy to flow through the pipe again, it feels great and manifestations follow.

This is important for me because FasteEFT has become my primary way of releasing resistance

So if you want to use FasterEFT as your primary tool, you can first neutralize your resistance (reach contentment on the emotional guidance scale) and then flow more energy through your manifestational pipe by thinking positive thoughts about your subject. This way manifestations can flow faster into physical reality.

If I have negative thoughts about an issue, and I leave those thoughts as is and stay predominantly happy (and NEVER remember/activate the thoughts pertaining to the issue), will it manifest?

Yes, this works too. Because by staying predominantly happy you lay a completely new pipe so to speak. Now everything you every wanted can flow through this new huge pipe without you having to fix all the little old blocked pipes.

answered 07 Jan '14, 02:54

releaser99
14.8k●16●91

If I have negative thoughts about an issue, and I leave those thoughts as is and stay predominantly happy (and NEVER remember/activate the thoughts pertaining to the issue), will it manifest?

I believe your negative thoughts will keep the manifestation at bay, but thinking happy thoughts could help shift your negative thoughts to an ever more increasing positive state, and thus bring about eventual manifestation.


In other words, if you maintain your negative thoughts about an issue, then no manifestation. If you allow your negative thoughts to change due to your predominantly happy thoughts, then that will undoubtedly have a net positive influence. You can't stay completely negative on any particular subject, thinking general positive thoughts.

answered 06 Jan '14, 18:27

Beach Baby
820●8

If you are seeing this message then the Inward Quest system has noticed that your web browser is behaving in an unusual way and is now blocking your active participation in this site for security reasons. As a result, among other things, you may find that you are unable to answer any questions or leave any comments. Unusual browser behavior is often caused by add-ons (ad-blocking, privacy etc) that interfere with the operation of our website. If you have installed these kinds of add-ons, we suggest you disable them for this website